The Bujinkan Kajo Waraku Dojo provides an authentic and rich experience of Japanese Budo Taijutsu to the Greater St Louis and St. Charles area in Missouri, USA.  We are licensed and operate under the direction of the Bujinkan Hombu Dojo of Grandmaster Masaaki Hatsumi in Nodashi, Chiba prefecture, Japan.
Budo Taijutsu is comprised of nine distinct schools (ryu-ha) that develop self-protection, awareness, and self-development through thousand year old methods. With study, practitioners develop a polished heart.

We also have training groups in the area.  Contact us for more details
 
BUJINKAN BUDO TAIJUTSU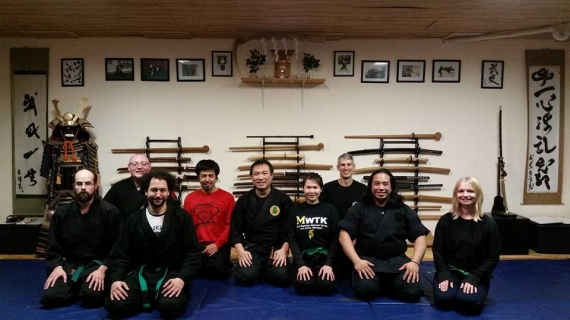 Our self defense training incorporates calisthenics, strikes, joint manipulation and utilizing weapons of the ninja and samurai in our movement.
TRAINING SCHEDULE
O'FALLON, MO
Mondays & Fridays:  8:00pm - 10:00pm
Other times by appointment